A Hole in her Heart
My daughter Story was born with a hole in her heart. Ok, yes, apparently heart defects are pretty common: approximately one in every 100 newborns will have a congenital heart defect. But I'll be honest… it doesn't make a lick of a difference to me how many kids have them, how severe they are, or what the end result is. What matters is that tiny hearts belong to tiny kids, and no matter how "innocent" a defect, they scare the everliving crap out of us parents. We didn't know Story had a hole in her heart until her 8 week check-up at our GP's office. He said her heart "gurgled" and it sounded like a murmur. We were referred to Sick Kids hospital, and I felt like my world had collapsed.
I'll save you from worrying through the rest of this post: the hole in Story's heart is fairly minor and doesn't interfere with her life at all, to this point. Though they expected it to close on its own after a year, it was still there at age 3.5, and we'll be heading to Sick Kids again this coming May to find out if it's there now, too. She is 5.5 now and I honestly don't know what the next steps are. Every time we go, they do ECGs and ultrasounds of her heart to be sure there are no detrimental effects of the hole. It's located on the septum between the two lower chambers of her heart, so there's a little "backwash" of blood between the chambers, and callousing of the muscle could happen over time. So far, we've been lucky… it's slow to close, but there haven't been any negative effects. I'm hoping this is the case in May, too. I don't allow myself to think of anything but positive outcomes, really. 
I worry constantly about my kids. I worry that they're unhappy, that I'm not being the best parent I can be. I worry that they're not eating enough, or playing enough, or they're being bullied, or being bullies, or…or…or a thousand other things. I worry about their health: the hole in Story's heart and the severe allergies my son endures. Like any other parent, I try my hardest to be sure this life is filled with happiness, goodness and love for them. But that worry, oh that worry is ever-present, isn't it?
But you know what? I shouldn't really worry. These worries are but small blips in a life of happiness and health. My children run and play without a concern in the world while others suffer so much worse. There are parents out there suffering through serious health issues with their kids, suffering tragedy, suffering so much more.
The hole in my little Story's heart is so much smaller than the hole in my friend Heather Hamilton's heart. Heather's is a metaphorical hole, but one so much larger, I sometimes can't believe she lives through it. One year ago, my beautiful friend lost one of her amazing children. Her son Zack was born with many health challenges; struggles that eventually led to his death. He left behind two loving brothers, an incredible family, and friends around the world whose lives he touched without even knowing it.
Heather and I became friends thanks to Twitter. We shared a lot of laughs and tears and she was (and still is) an amazing supporter to all parents. She reassured me about dealing with Story's heart testing, and is always there for me when I have questions. She has supported all she comes in contact with, never comparing our worries. When we complained that our kids have colds, Heather reached out to support us, even when her son was dying. When we struggle to maintain our parental sanity day-to-day, Heather is there cheering us on, and living through the loss of her son. When we say we're "too busy", Heather has been working, volunteering, and organizing events to 
raise money to create an Elmo-themed "dream room" at York Central Hospital and provide a comfortable, comforting place for families who spend time there with sick kids
.
Heather is a living angel.

This weekend, there is another event to support this amazing cause. It's
a showing of the film, "Being Elmo", and there are a ton of activities for kids, and fun for the whole family
. My family will be there, of course. If you're in the Toronto area, I urge you to come and join in the fun.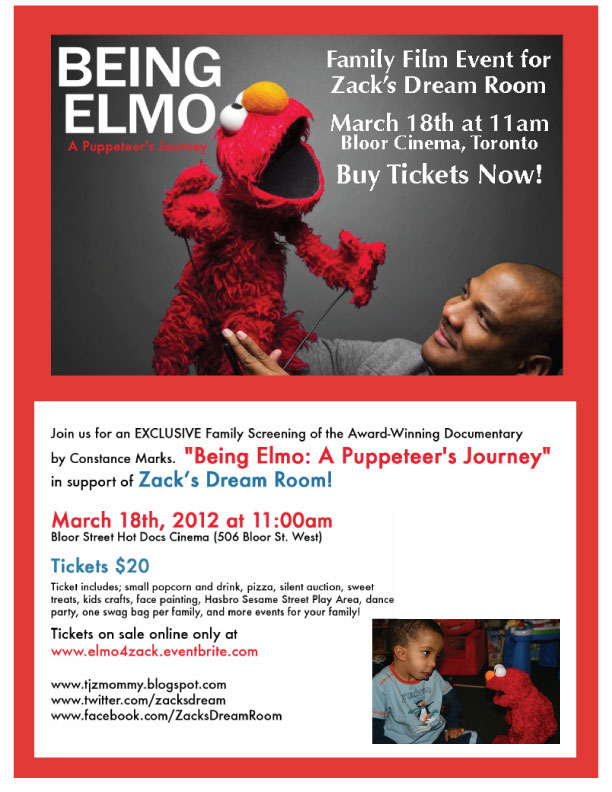 Even if you're not in the area, I would like to ask you to support this cause. Having a child who needs this kind of care in even the smallest way makes me appreciate what Heather is doing so much more. You have no idea what a terrible place a hospital is to be until you've spent time in one with your sick child. If you click the link (or the poster), you'll be taken to the event page where you can either buy tickets to attend, or make a donation to the cause.
Sometimes a little perspective makes all the difference in the world, and even though I'll always worry about the hole in my little girl's heart, I'll always remember Heather for supporting me so strongly despite the hole in her own.
Heather, I love you, friend.